Fall is coming, how many of you are excited?  I am a summer person all the way.  There is nothing wrong with fall, and I certainly enjoy aspects of it, but if we could go back to summer once fall is over, I would be 100% on board with that.  That being said, I have enjoyed shopping, both in store and online, and researching some popular trends for fall. 
I'm going to focus this post on fall shoes.  There are so many great ones, I thought they deserve a story all their own!  As it is almost October (because I have fallen hopelessly behind), you may have already purchased some new footwear for the season.  But maybe you will be inspired to take one more look!
Good news for me, boots aren't going anywhere soon.  Tall boots, over-the-knee boots, short boots, ankle boots, lace-up boots, you name it, they are still going to be a staple this year.  One of my personal favorite styles is riding boots.  I have pair by Jessica Simpson, I've had them several years; they have held up well and are comfortable.  They go with jean, leggings, and dresses, so I get a lot of wear out of them.  I really like the looks of this pair by Sam Edelman. 
I love Frye boots, like the ones above, but don't always love the price. Thankfully there are many more affordable options, like the ones below from Belk.
Booties of course are still going strong, and also versatile.  They go great with skinny jeans and dresses as well.  Booties could almost be a whole post on their own, so check out some of the styles, I'm sure you can find something that works with your own style and wardrobe.  Here and here are a couple examples of versatile booties that would go with most anything.  The options are almost endless though, so don't be afraid to try something a little fun.  I have a pair similar to these, (also shown below) and I like that they give a little edge to an outfit without looking too crazy.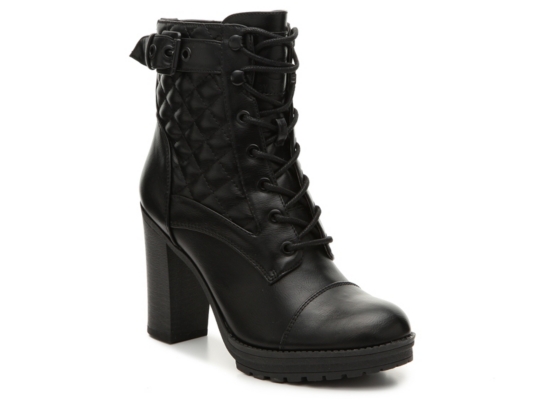 Another style that is HUGE this fall is slides or mules.  I personally have not purchased a pair yet, but it is on my to-do list within the next couple of weeks.  I've been trying to find a neutral pair I like, and I think I have narrowed it down. 
I'm not a fan of the pink, but this pair from Target is cute and affordable.  Pink is almost considered a neutral nowadays, so this might be a good option for someone.  They also come in black, so I will keep them in mind as well.
This pair shown above is one of my top contenders from DSW, and affordable too.
Leopard print on anything, especially shoes, is also extremely popular this fall. It isn't my personal taste, but I like the look on others.
I hope this post has inspired you to go fall shoe shopping! Stay tuned for an upcoming post about some of the fall clothing trends and my own purchases for the new season. Happy Shopping!